Bouquet De Fleurs Ring in 14K - Aquamarine
Regular price

Sale price

$550.00
Get it right for you.
This ring has default size of US6. Please state your ring size here so we can offer complimentary resizing.
I am size US6. No resizing required.
Yes, please resize my ring to size:
I don't know my size. Please send me a ring sizer.

No gift wrapping and minimal packaging please.
Gift wrap with blank gift card.
Gift wrap with the following printed message:

Hurry, only 2 items left in stock!
This Aquamarine, Diamond and Sapphire ring evokes the same marvel and joy as a bouquet of flowers. Painstaking pieced together to enhance one another's sparkle and "fire", these gems look just like an exquisite bouquet.
Currently in size US6. Includes one time Free Ring Resizing.

Gemstones: Aquamarine, Diamond and Sapphire
Aquamarine Weight: Approx 0.75 carat
Sapphire Weight: 0.27 carat
Diamond Weight: 0.043 carat
Metal: Solid 14k Rose Gold
Setting: Prong Setting
Birthstone: April (Diamond), September (Sapphire), March (Aquamarine)
SIZING ISSUES: If you are unsure of your ring size, please choose the option for us to send a ring sizer to you. You can go ahead and purchase the ring first and inform me of your ring size later.

Note: This listing is for 1 ring only. The three rings stacked together are to show the different metals available.

About Aquamarine
If you're looking for good luck, protection and courage, Aquamarine is your go-to gem. It helps you communicate clearly and the colour, reminiscent of the sea, brings calm and peace. Any time you're caught in a confrontational situation, the strength of Aquamarine will serve you well to state your case clearly, and calmly.

Aquamarine is the birthstone for the month of March.
About Diamond
Sitting at a perfect 10 on the MOHs Scale of hardness, it's no wonder why they say a Diamond is forever. Nothing quite rivals the adamantine shine of a Diamond, and it always elevates a design with its unyielding hardness and sparkle.
A Diamond is a symbol of purity, fidelity and commitment in relationships. It is also a symbol of wealth, accumulation and the manifestation of abundance.
Diamond is the birthstone of those born in April.
About Sapphire
Sapphire is the gem of wisdom and hope. It is the birthstone for those born in September and also a great gift for young graduates as the Sapphire represents wisdom and knowledge. As one of the 4 precious gems along with Ruby, Emerald and Diamond, the Sapphire is the perfect wedding anniversary gift.
Jewellery Care
Keep them dry. Avoid getting any hairspray, perfume or lotion on them.
Keep them separate. Store fine jewellery separately in individual bags. Ziploc bags may not be the most glamourous but they do keep jewellery from reacting with the air and turning blackish. I personally put all my jewellery in individual Ziploc bags.
Keep them clean. Wipe with jewellery polishing cloth to remove skin oils and makeup.
Remember that with jewellery, they should always be the last thing you put on, and the first thing you take off.
About the Material
14K or 18K Gold
The "K'' stands for the karatage of the gold. 24k gold is 100% gold. By itself, gold is too soft to fashion into jewellery. That's why we alloy the gold with some other metal to make it strong enough for everyday wear. 18k gold is made up of 75% gold whereas 14k gold is made up of 58.3% gold and 41.7% of other metals.
By alloying it with certain metals, we achieve the look of white gold and rose gold. The higher the karatage of gold, the lower the likelihood of any skin reaction with the metal.
14K Gold Fill & 14K Rose Gold Fill
Gold Fill jewellery is the best quality alternative to solid gold. An actual layer of gold is pressure-bonded to the base metal to ensure that it endures over time and does not tarnish or oxidize to become another colour. To top it all off, it is very safe for sensitive skin.
Sterling Silver
Silver is considered a precious metal but is too soft to fashion into jewellery. To give it more strength, we often mix another metal (usually copper) with silver. Sterling Silver is 92.5% pure silver and 7.5% of this other metal that adds strength, while still preserving the ductility and beautiful shine of silver.
Sterling Silver tends to become blackish upon contact with sulphur in the air or water. This can be easily cleaned off with a jewellery polishing cloth.
Vermeil
Vermeil (pronounced ver-May) is sterling silver that has been coated with gold of at least 10K. Vermeil has intrinsic value as it is made up of precious metals. It is also safe for sensitive skin due to its precious metal components. Vermeil jewellery is more expensive than gold plated jewellery due to Sterling Silver being the base metal that is coated over.
Packaging
All jewellery is carefully wrapped in our signature JL Heart jewellery gift box with a polishing cloth and pouch. If an item is meant as a gift, let us know in a note at Checkout so that we can include a blank gift card for you.
Warranty
In the event that you receive a damaged item, we will provide a one-to-one replacement unless it is a one-of-a-kind product in which case we will provide a full refund or store credit. Please notify us within 14 days for such cases.
For jewellery that have tarnished over time, simply polish it with the polish cloth provided with every purchase. Please contact us if you would like to replace any parts. We will let you know if that's possible and the costs involved.
We will gladly replace any jewellery that are damaged due to any workmanship defect for up to six months.
Shipping
I ship all items using Registered Mail by Singapore Post. They are reliable and our items usually reach Singapore within 2 working days; other places in Asia within 5-8 working days, and in USA and Europe within 11-18 working days. However, if you place is further from main cities, please allow more time for the items to reach you.
If you need your items sooner, please select expedited shipping using our Fedex account which offers very reasonable rates.
Free Ring Resizing
Free ring resizing included. Please leave a note at checkout on your ring size.

SIZING ISSUES: If you are unsure of your ring size, please contact me for a plastic ring sizer that help you determine your ring size. You can go ahead and purchase the ring first and inform me of your ring size later.
What's your size?
Internal diameter of the ring (in mm):
Your ring size:
If you have an existing ring that fits your finger, measure the internal diameter and use our conversion tool above to know your ring size.
Not sure how to measure?
For full information of measuring techniques, please see our Ring Size Guide Page.
Customer Reviews
08/17/2023
Tanya L.

Singapore
Aquamarine Ring
Delicate and noble rings have never disappointed me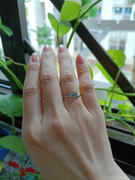 Testimonials
"I have bought many things online and from several makers/jewelry designers. One thing that JL Heart really stands out in is A+++ customer service/ being customer centric, and quality goods for the price paid.  


Juat Li is responsive and helpful, and you can see her genuine passion for jewelry and her business. There are several times that she went the extra mile for me and I really appreciate it! 

Most importantly, JL heart's products are well photographed and as true to the real colours as possible.. Most of the time, they are even more beautiful in real life than in the photos :) "

Rachel T.
"Each piece I've ordered from JL Heart has been even more beautiful in person! I'm always excited to see the new designs."

KH
"The pieces of jewellery were exquisite, so delicate and gorgeous.

Joyce's service, both before and after sales, was impeccable. I was extremely skeptical about buying jewellery online, but my experience with Joyce has been nothing but wonderful. Can't wait for her new launches."

KJ
"I have bought 4 pieces of earring over the last 12 months; 2 of which were gifted to the loveliest people I know and I know they love the earring as much as I love mine."

Esther C.
"I've bought many beautiful rings from Juat Li . They are very well made and brings me a lot of joy when I wear them.  I highly recommend buying jewelry from her!"

Renee
"Thanks for all the beautiful pieces that you have created! I love the sparkly pieces that I have and the pretty packaging and card makes the pieces great gifts too! Looking forward to new pieces ;)"

Jialing
"Beautiful handcrafted jewellery which gives a modern twist to tradition :) Thanks Juat Li for making such lovely pieces and please continue to do so!"

Marlene